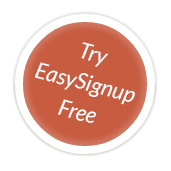 Our user-friendly online event management system lends you a helping hand that gets your events off to a good start.

EasySignup saves resources that you can use on other tasks, while enabling you to offer your guests (and boss) professionally conducted events, including customer events, courses, conferences or even the company's Christmas party.

You can create your first event signup page within 15-20 minutes - it's so easy that you don't even need a user manual to get started.
---
EasySignup's online event management system gives you:
• Automated registration and cancellation, including auto-generated confirmation e-mails and invoices

• Ability to provide participants with access to a range of options, including the purchase of additional services such as accommodation, choice of workshop, meals or transport through an easy signup form

• Option to provide company executives, co-workers or other relevant partners access to attendee lists along the way

• Ability to send reminders via e-mail and text message before the event

• Ability to send follow-up e-mails to participants after the event asking for feedback or promoting upcoming events.

And much more...
---
We are here to help you, whenever you need it.

To us, being avalible to offer you personal and efficient service is very important. You can contact our support by e-mail or through our support system.

We always have the time to guide you and answer any questions you may have about event registration using EasySignup.

Our guarantee to you is our danish quality - We are located in the northen part of Denmark this is also where you find our support and development department.


Use EasySignup for your next event and experience how much easier the registration process is for both you and your guests.
Get your free user account by signing up for the newsletter.

Bonus: You also get the e-guide: "How to get more attendees" and our "Easy Checklist" for events.